Newsroom
Children Left Unattended in Vehicles Risk Heatstroke, Brain Damage and Death
Twenty-nine heat-related child deaths investigated since 2000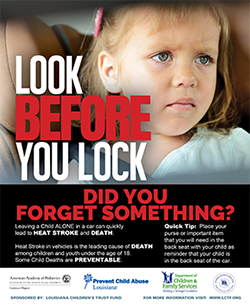 BATON ROUGE, La. -- As the official start of summer approaches and temperatures begin to rise, the Louisiana Department of Children and Family Services (DCFS) reminds parents and caregivers that children are at an increased risk of hyperthermia, heatstroke and even death if left unattended in a vehicle.
Since 2000, DCFS has investigated the deaths of 29 children who either were left in an unattended vehicle or climbed into a vehicle and became trapped. Nine of these children were less than a year old.
Of the 712 children, nationwide, who died of vehicular-related heatstroke between 1998 and October 2016, more than half -- 54 percent -- had been left in the car by a caregiver who forgot they were there, according to a study conducted at San Jose State University. Another 28 percent died after playing in an unattended vehicle, while 17 percent were intentionally left in the car by an adult.
"A child should never be left alone in a vehicle, where even moderate temperatures can quickly rise above what children's bodies can withstand," said DCFS Secretary Marketa Garner Walters. "Always look before you lock and check the back seat to make sure your most precious cargo isn't left behind."
The National Highway Traffic Safety Administration offers the following safety tips:
Never leave infants or children in a parked vehicle, even if the windows are partially open and you plan to return quickly.
Make a habit of looking in the vehicle -- front and back -- before locking the door and walking away.
Do things to remind yourself that a child is in the vehicle, such as:

Writing yourself a note and putting it where you will see it when you leave the vehicle;
Placing your purse, briefcase or something else you need in the back seat so that you will have to check the back seat when you leave the vehicle; or
Keeping an object in the car seat, such as a stuffed toy. When the child is buckled in, place the object where you will notice it when you are leaving the vehicle.

If someone other than you is dropping off your child for the day:

Call the childcare provider to make sure the drop-off went according to plan.
If you have a smartphone, use an application like Find My Friends, which will alert you when they arrive at specified locations like the daycare. If you do not receive an alert, immediately call the person who was dropping off the child that day.
Ask your childcare provider to call you if your child does not show up by a certain time each day.
Prevent children from getting trapped in unattended vehicles by teaching them that a car is not a play area and by keeping doors and trunks locked at all times. If a child is missing, check vehicles first, including trunks.
If you see a child alone in a hot vehicle, immediately call 911. Warning signs of hyperthermia include red, hot and moist or dry skin; no sweating; a strong rapid pulse or a slow weak pulse; nausea or acting strangely.
Louisiana is one of only 19 states with laws against leaving children unattended in a vehicle. A first offense for leaving a child under the age of six unattended or unsupervised in a car will net a fine of up to $500 or imprisonment up to six months or both. For subsequent offenses, the fine ranges from $1,000 to $2,000, with jail time of not less than one year nor more than two years, or both.
###